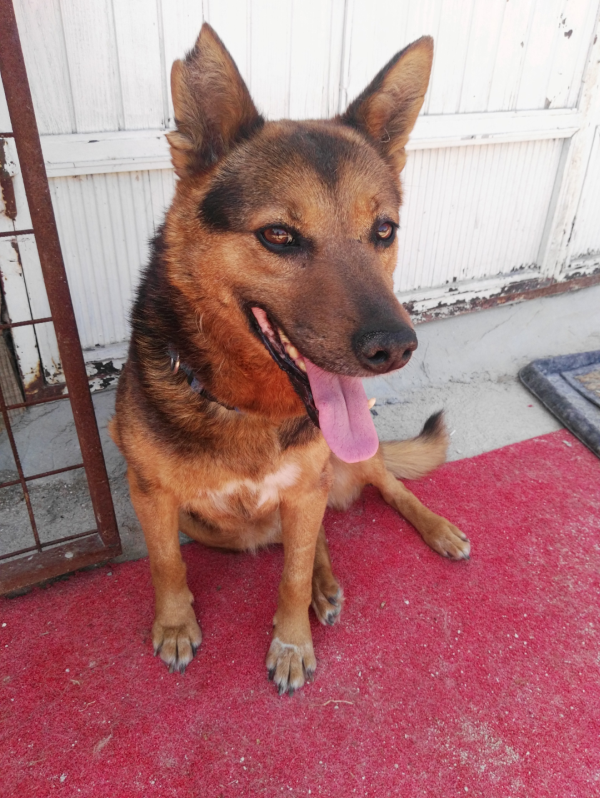 Cherry has sadly passed away today (08/01/22).
From Tina Atlagić her foster.
She is gone. She went peacefully looking very content. As per my conversation with Maya she will be cremated and I will return her ashes to Sarajevo when I go home in April.
It's so difficult to express the exact emotions I'm feeling. Some will say she hasn't been with me long enough to develop such attachments or that she was already too old. But to me Cherry was mine. Is mine.
From the moment I saw her photo, to the moment I hugged her for the first time to the last kiss she was mine and I was hers.
Many have said their thanks for giving her a loving home in her last days but the truth is she gave me the best days of my life. I have never met someone so loving and trusting.
I will miss the way she would jump up from her favourite yellow sofa every morning I came downstairs to take her for a walk. I will miss her enthusiasm and determination to get me out of the house before I even had my coffee. Trust me, she was the first to make me do anything before I had my morning coffee. I will even miss her bark that would wake up everyone else because I was to slow and did not got her out of the house in under a minute.
Cherry never lived in a house before she entered mine. But right away she made it her home. On her second walk she already knew her way home. She knew which doors would get her into the garden for play and quick round of sniffing and which ones led to the outside adventure.
She would give you clear signals when she wanted to be groomed and if you stopped for any reason she would use her little paw and tap your hand to continue. I would spend hours just sitting on the floor grooming her and telling her I needed to work so I can earn us money for nice treats. She preferred grooming over treats.
Unless it was salami. God how she loved that thing. And Rio's food. Rio is a cat. And all Cherry wanted to do was eat his dinner. But it was bad for her so all she did get was a lick of the tin. She still loved it.
When I first decided to foster a dog from Bosnia I never in my wildest dreams thought that I would be reminded of beauty of my own language. I would talk to her and use the words of adoration that I did not get to express in English. Cherry also successfully forced all the people around her to learn phrases in Bosnian as she only responded to English commands when given by me.
"Daj šapu" a command to give her paw, soon became the most used phrase in our Frome household! But in her last days Cherry also learned to respond to commands in Portuguese and Spanish. The smartest dog I've ever known.
I have never shared such bond with an animal like with her. It was as if I instinctively knew what she needed and wanted.
Just before she was diagnosed with cancer, Cherry started to respond to recall and she walked of leash for the first time. I was so proud of her. On every next walk, on leash or of leash, she always made sure I was right next to her.
What I wish to say between the lines of these words is that even though our time together was short I would not change a moment of it. Given a chance I would do it all over again. And if me and my girl can ask you of anything it would be to give senior dogs a chance. Once you do what you will get in return in unmeasurable amount of love.
Cherry has left a massive hole in lives of many people. I know I will never be the same.
I want to thank Hope team for trusting me with her and for all the support in her last days. Thank you for making sure I got a chance to say goodbye. Thank you for giving us a chance to have this remarkable experience together.
Thank you all for donating towards her medical bills. They are huge I am forever grateful that there are loving people who are willing to help.
In Cherry's honour I will support her best friend at the shelter Medo and maybe once the pain is bearable I will foster again.
Cherry now runs pain free over the rainbow bridge with Rex.
Ljubavi moja najdraža, falit ćeš mi. (My dearest love, I will miss you.)
Tina and the Frome household (including Rio who is missing her)