Newsletter June 2021 - Issue 15
10 July 2021 | Admin
(Cue "Dog Wars March" Music)
"Recently, in a country far, far away…….
the Evil Lord Boris and his loyal lieutenant CoVid, try to stop our brave heroes Maz and Seth from exploring the beaches and moorlands of Devon and Cornwall
The evil Boris and his lieutenant CoVid 1-9, plan to unleash their ultimate weapon to stop these brave dogs from having fun…
LOCKDOWN!!!!!!!
Our fearless (unless it's water or loud noises) heroes., Admiral Maz and Jedi General Seth lead a band of brave band of rebels against this evil weapon…
Their goal to paddle on local beaches, explore new woods and forests and pee there,
To chase Squirrels and Pheasants and (if allowed) those annoying white fluffy
Things…..Sheep …."
Hello fur friends!
It's us! Maz and Seth back for the summer edition of the Hope VMS newsletter. We hope this newsletter finds you all well and that you're enjoying the sun. In this edition, we give you an update of our adventures in Devon and Cornwall, however as there has been so much going on at the shelter, we are going to focus on all their hard work and show what all your kind donations go to; as well as photos from our extended fur-friends from around Europe.
[Maz here], Seth's working on his sun tan at the top of the garden, as you will see in the photo] As you can tell by the introduction dad has been watching the Star Wars films…again! So, we thought it would be fun to copy the start of the film. Since this lockdown has been lifted (well nearly) we have been out exploring a little bit further afield. We've been back on our favourite beach in Cornwall, only this time the nice coffee shop with fluffy towels and snacks was, according to dad, too busy and had too many people for us to go back in to enjoy their wares (maybe next time) so we still had to eat the snacks we brought with us. We've also been exploring the caves on another beach at Perranporth (further south in Cornwall). That beach was nearly empty, maybe it had something to do with the rain on the day, as we go wet without even going in the sea; we even had to wear coats!!
Just in case you are wondering who those devilishly handsome dogs are in the photos – it is us with our summer haircuts! The bottom one is me (Maz) in camouflage in the forest - it helps with hunting!
We have also been exploring and paddling in new areas of the moors and we have also been on our favourite walk; what we call the clay pit, which is nearer home, and doing our 'lion king' bit by surveying our kingdom.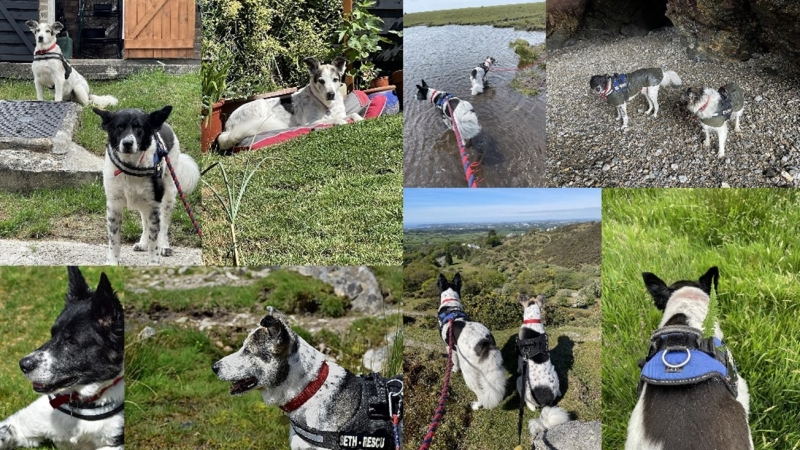 But as we have been going there for our walks in the early mornings and / or late evenings; we have also discovered there are some strange brown horse-like things called 'deer' (or Bambi's) along with real horses. We have no idea what they are, but we can sniff them from a long way away though they run off when we get insight of them. Mum likes them as she can take more photos to bore people with! We have also seen the occasional 'Thumper'; Seth likes to sniff for those…. Well folks, that's enough about us, on with the important stuff, updates from our fur friends and from the shelter!
First, we would like to wish Maya a belated happy birthday! It was a landmark birthday and as you can see with everyone's help (and donations) she was surprised with a little party in the newly built summer garden. Maya was given presents, balloons and cakes that she could share with hoomans and the lucky woofers in the shelter.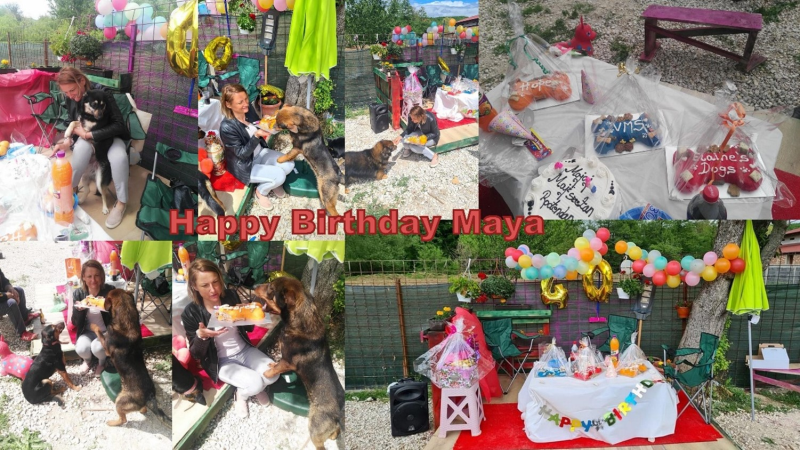 Maya was also surprised on her birthday by some work done in the shelter. A new bathroom which will also help shower our friends, especially when they need to look snazzy for their journey to any new homes.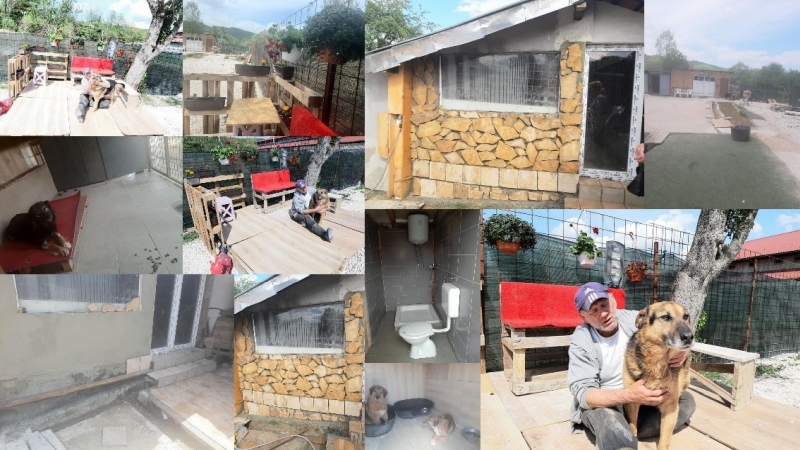 But as you will see from the photos, it is not just the bathroom that they have been working on at the shelter. Adnan made the summer garden, where they had Maya's party, with flowers on a platform of pallets. They are taking so many beautiful photos there now as you may have seen with the updates on Facebook.
These are just some of the photos taken to show the working going on in and around the shelter. There are the newly tiled pens and they have been working on the stairs and the outside of the building because the concrete had started to crack. You can see the start of the work and then the nearly-finished exterior. We are certain that when it will be finished, it will look fantastic.
As you can see, everyone at Hope has been busy trying to make the lives of all our fur friends still in the shelter a lot more comfortable until they find their furever home. Though all this hard work has not stopped them from doing what they do best, helping and rescuing animals and making their lives a little easier.
Snupy was adopted into a loving home but soon developed signs of anger which was out of character and no one knew why. Snupy went to live with a dog therapist who has coached him to be less aggressive and more loving and they have done this free of charge and he is more or less like his old self again. However, he did have to have work done on his teeth and the vet bills was around £350.
Cherry (short for Cheryl) was due to euthanised because she had a bad leg. She was saved from a kill shelter and had to have a fixator on her leg and is on her road to recovery and is now back at the shelter after spending time at the vets.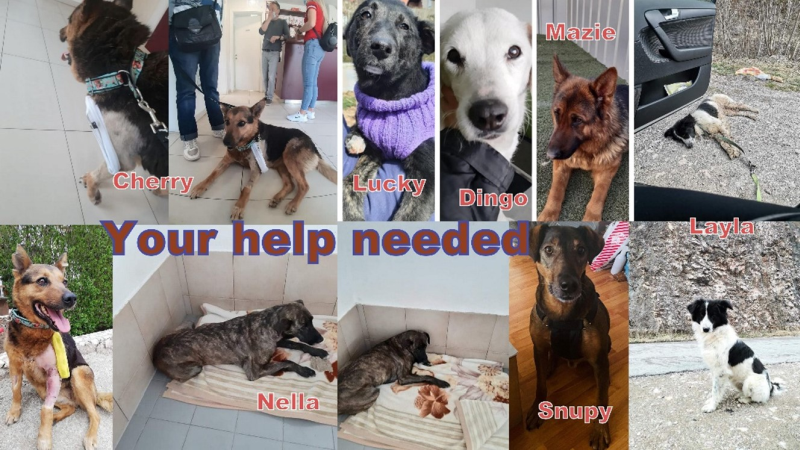 Dingo, has heart problems and epilepsy and has had to spend time with Maya who has been nursing him back to health after having seizures. Lucky has problems with her hind legs and possible neurological problems as a result of the parvovirus she had and Mazie possible requires surgery for her leg. They each need monthly medication at least £75 per month each. Layla was dumped in the middle of nowhere and was brought to the shelter (but on writing this, we have had heard that she has got a new home in Germany, photos to follow in the next newsletter) and then we have Nella. Nella is Lucky and Becka's biological mum rescued from the streets with her puppies. She has now been neutered and has been recuperating at the pension. Maya has also rescued another heavily pregnant dog from the streets, now named Simba who has since had 9 (!!) puppies. At the moment they are all doing well.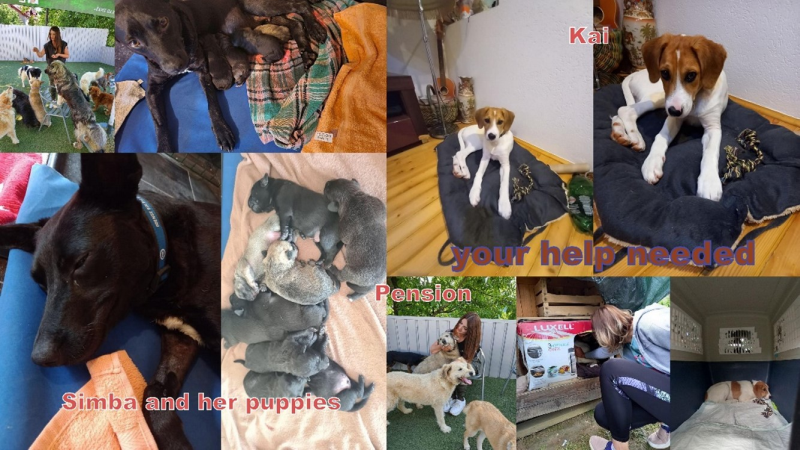 Kai was also rescued from the streets (you can see the box he used to live in). He is now at the shelter. We have also shared a couple of photos from when Sanela visited the pension to see some of the other woofers that are there until they can go to the shelter. As you can see, they were very excited to see her and she (and her treats) was made very welcome. These are just some of the reasons why Hope needs your help with sponsorships, donations and the auction. Even if its just liking and sharing the posts.
Here are some of the woofers that have been long-term residents and they are looking for their new homes.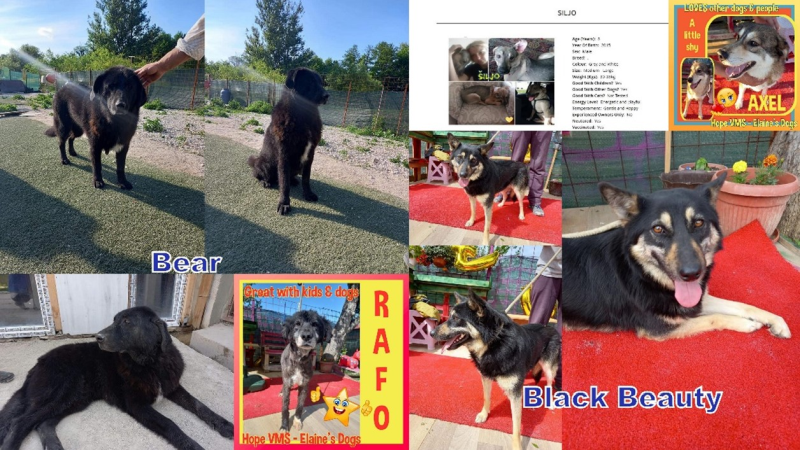 Bear is one of the old boys at 13 years old but is still very active and just loves to play. Rafo is 11 years old and a charmer who loves affection and is very good with other little hoomans and other dogs along with Siljo who had a terrible start where they think he was dragged by a car that took the skin off his back. He was nursed back to health by Maya. Black Beauty has been missing her shelter mate who has recently found their new home and we would really like her to find one too.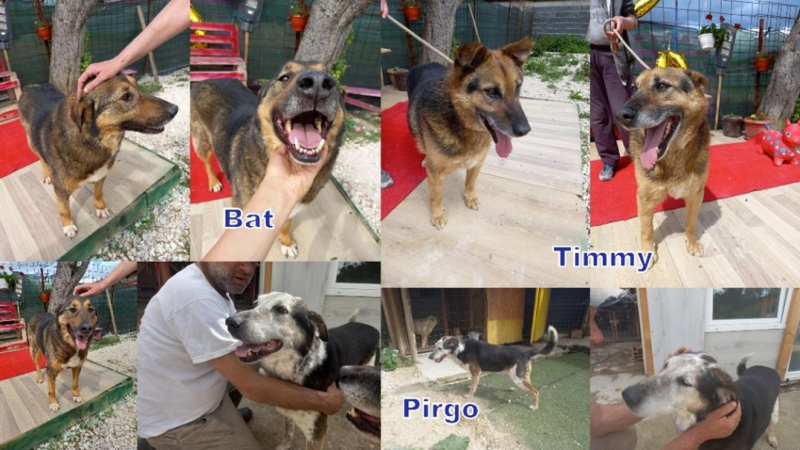 Pirgo is sweet and loving and so is Bat but he can be dominant with other dogs, so may need a home of his own. Timmy is just cuddly and loving.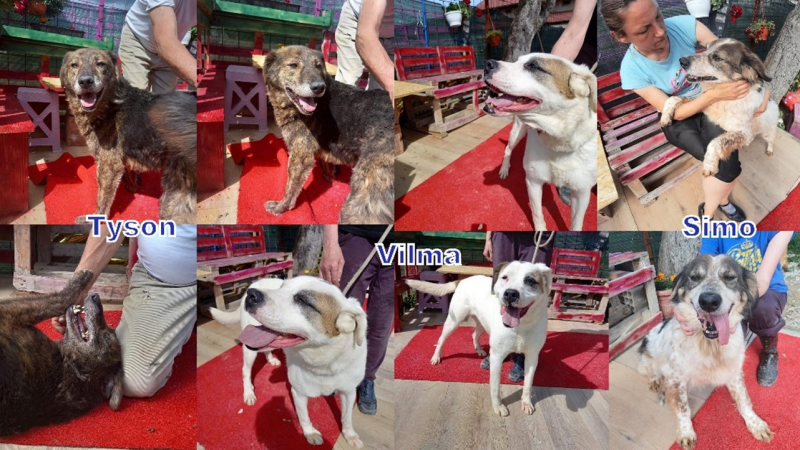 Tyson is 6 years old and has been with Hope for over 5 years, so really needs a new home. Vilma is a cuddy, playful and cheerful. Simo is good with children and is better with female dogs. Please help them find their furever homes.
Coming up are the reasons we appreciate your help, some happy woofers in their new homes. Some have happened fairly recently and some of the woofers have previously featured in our newsletters asking for a home, and now they have, it has made us so proud!!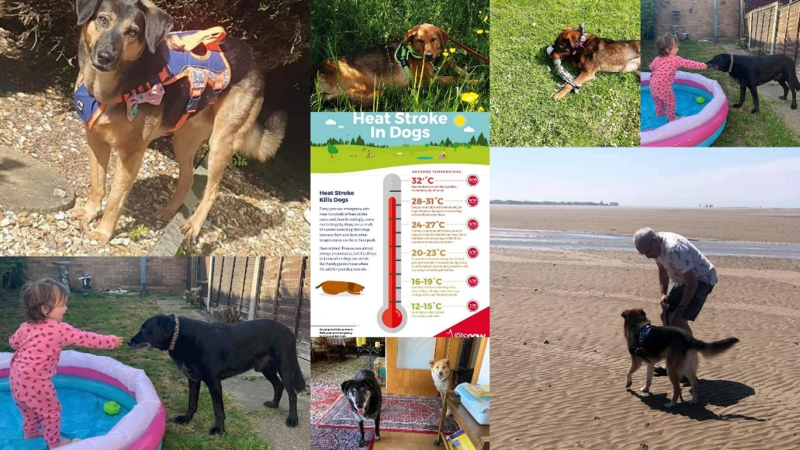 Male enjoys her new home and Vucka helps her friend adapt to her new environment. Bounty has arrived at his new home and has new fur sister Sophia. Vule enjoying the beach (just like us) and Doly in her new home! We also have Zak getting some crackers from his hooman sister Alice.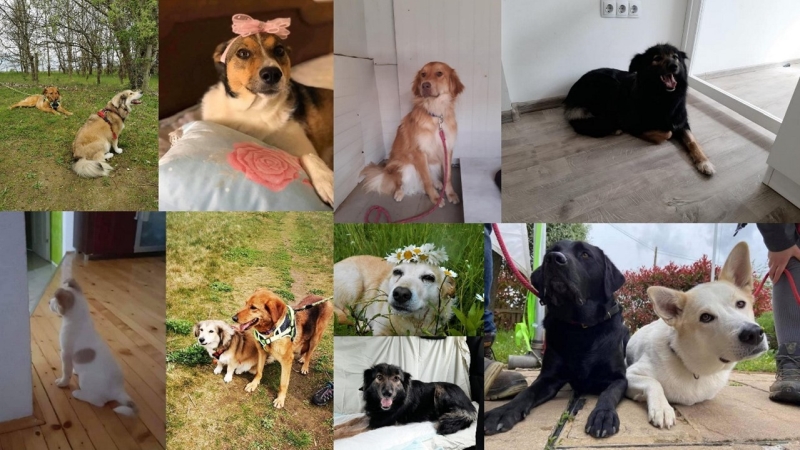 Cindy who featured in our last new letter has found a new home in Germany, we have Meta (we love the daisies) Rosie and then Mia who came from a kill shelter to now relaxing with her pretty pink bow in her new home.
We also have Jessie, Luka with his horse brother Boris, Mia, Ella and Austin (formerly known as Baron)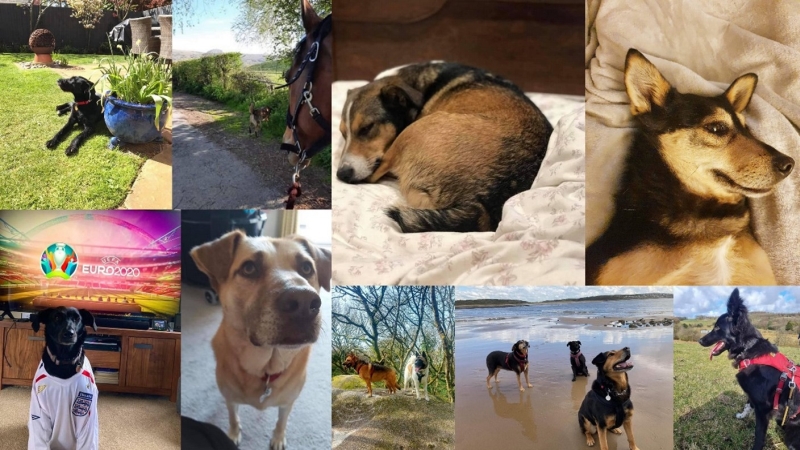 Benji enjoying his new garden and Tara enjoying her senior years. Luna celebrating her gotcha day, Cali, Suki and Max also enjoying the beach (and getting ready for the football, though dad says it is the wrong-shaped ball).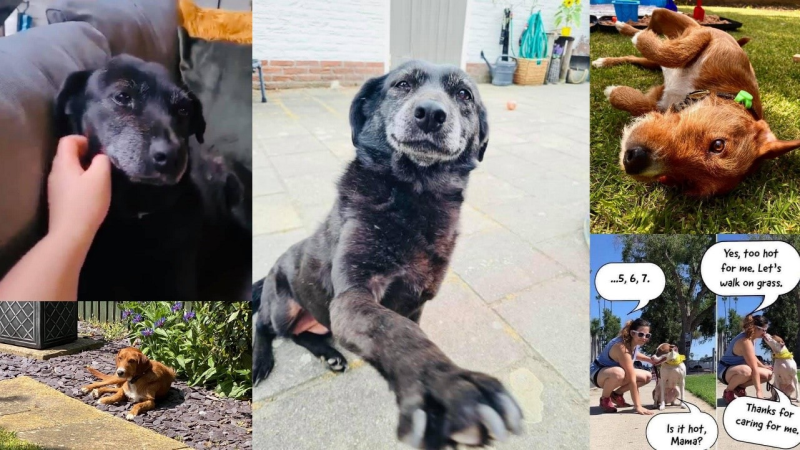 We hope you don't mind but we have also included some reminders in about the warm weather, with summer now upon us. If its too warm for you, then it will be too warm for us woofers!! Also don't forget your flea and tick treatment, ticks love the damp and warm weather!
Please forgive us if we have forgotten anyone and we would love one of our friends to take part in our garden chats for the next newsletter. Please message us if you would like to volunteer. (The Hope admins know how to do that)
We hope you have enjoyed this Shelter special.
May the force be with you !
Love Maz and Seth
General - How To Help.
You can help our 'Fur' brothers and Friends by doing the following:
Sponsoring – There are over 60 dogs still in the shelter. It can cost up to €15 for food and shelter – but whatever you can afford will do – everything helps.
Direct PayPal is:
dave@davegenders2.co.uk (This is our UK PayPal so you can donate in £ or €)
OR:
Website : https://www.hopevmselainesdogs.com/general-donation.html
Sponsor a dog : https://www.hopevmselainesdogs.com/sponsor-a-dog.html
Adopt a dog : https://www.hopevmselainesdogs.com/adopt-a-dog.html
Please like, share and invite people to like Hope VMS adoption and auction Facebook pages. By doing this you are increasing the number of views and that can only be a positive thing as there might be someone out there looking for their ideal furry companion. Also it may help sell the auction items and raise the necessary funds that are always so desperately needed.
Also don't forget to like and share our newsletter and details of the Hope VMS website. We would like to hear how you are settling in to your new homes. Or if you have any interesting stories/adventure with pictures then please email us at editorhopenewsletter@outlook.com and when our human parents are at work we will have a look and get as many as we can in next month's newsletter!
Our website:
https://www.hopevmselainesdogs.com/
Please visit our Facebook pages.
Main page
https://www.facebook.com/HopeVMSDogs/
Adoptions group page
https://www.facebook.com/groups/HopeVMS/
Auction group page
https://www.facebook.com/groups/454360381428547/
To receive our monthly Newsletter by email, please complete your details below.