Newsletter Spring 2022 - Issue 18
9 April 2022 | Admin
Cue Star Wars Theme Music…. Episode 3: Maz and Seth to the rescue...
A Long Time Ago in A Galaxy Far, Far Away…..Actually December in Devon and Wiltshire, our heroes Maz Windu and Obi-One Seth receive a desperate call to assistance from Jedi Master Simba and her class of young Padawans who are hiding from the evil dog knappers on the imperial world of Bosnia…
With a flash, dash, snacks and a snooze (it's a long trip from Devon to Bosnia) our heroes sneak into the shelter were Simba and her Padawans are hiding. But look out, the evil dog catchers have followed our heroes! With a flash of light-sticks (you can't give a dog a light sabre!!!) Maz and Seth defeat the dog-catchers and rescue Simba and her younglings.
To celebrate their combined efforts the Doggy Council award Maz and Seth a new Padawan………Princess Juno!
Hello fur friends, and hoomans, it's us Maz and Seth! Before we start, we like to say that, that will be the last Star Wars introduction (for a while anyway, any suggestions for the next one would be welcome). We would also like to introduce you to our new sister and fellow reporter Juno. Juno will be taking over the toy testing (She only does destruction), shoe and trainer survivability test and fitness desk.
As mentioned, Juno is one of Simba's puppies and we met her for the first time in December, one of her brothers Obi also came across and also lives in Plymouth, but more of that later. So, to update you with our antics since our last newsletter… we have met our fur-nephews Iroke and Kai (Kai is also a Hope VMS dog and one of the photos below is Juno playing with him at Christmas) who now lives with our hooman parent's son and his wife in Oxfordshire. We have also been introducing Juno to our favourite walks and the beach. Juno is settling in well and has already picked up on our better habits…such as sad eyes when the hoomans are in the kitchen, barking at the Amazon and post person, as well as other people and dogs walking past our house! And we won't even start on the cat problem around here! The indignity of it, there are about a dozen cats on our new street and they simply aren't listening to us about staying out of our garden, just wait until the weather gets better.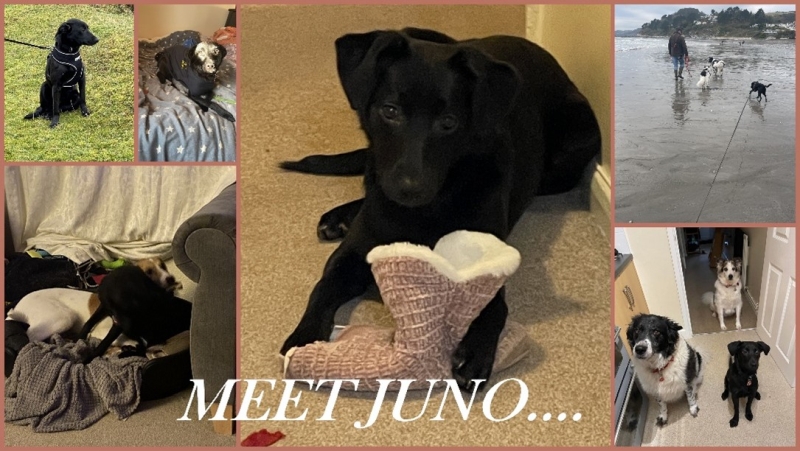 As usual we will bring you updates from the shelter and the amazing work that Maya and her team are doing to keep our fur-friends safe. We'll update you on fosters and adoptions and our regular fire-side chat is back in front of the fire as it's currently raining and let's face it a warm cosy rug in front of the fire is better than getting our paws wet. This month we shall share a water bowl with Alis.
As we have mentioned above, Juno (aka miss poopy pants / land shark) arrived in December on the same transport as her brother Obi, who has she has met up with for a catch-up on how life in Plymouth is treating them. On the transport was also her brother Sparky (now Loki) and other friends, Bear (who went to a different rescue centre and has since found a home, we hope to have pictures for the next newsletter) and Cherry. We apologise if we have missed out any other woofers who were on there too.
Cherry went to a foster home with Tina Atlagic, and you can see from some of the photos (some below and another in our Christmas montage) seemed to settle in very quickly. Unfortunately, Cherry became ill before Christmas and sadly passed away just after the New Year. We thank Tina for every thing she did for Cherry and giving her the luxury of being in a home, even if it was for such a short time.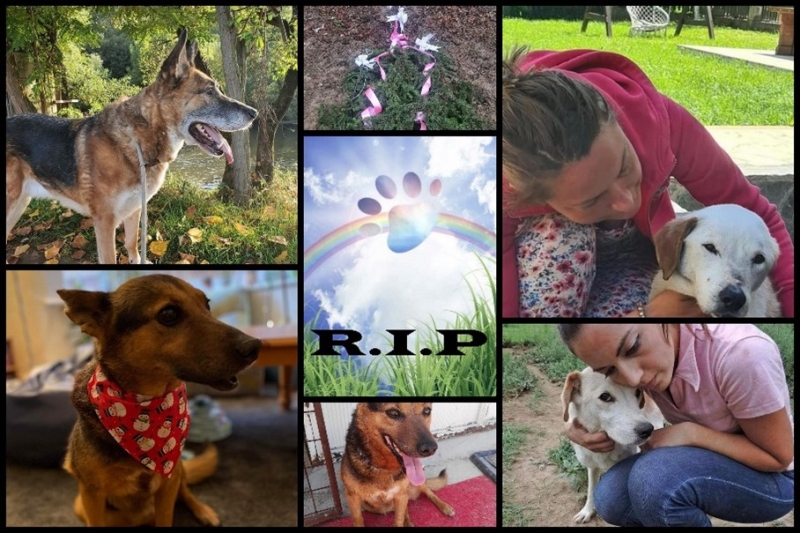 In previous newsletters we have also talked about Rex, who had been suffering from cancer and Dingo who had been suffering from seizures. We shared Hope's appeals for help for their care, medication and vet bills, which you have helped with so generously. Unfortunately, they also lost their fight this year. They will be greatly missed and we thank you, Hope supporters, for all your help.
However, there has been some positive news that has happened since we last updated you. There have been some new adoptions. Below we have Timmy who has gone to the Netherlands, Siljo in Germany, Juno (not impressed with her Christmas hat), Obi (who seemed to like his more) and Alf who was being fostered by one of Hope's admins David Genders, who has now decided to adopt him. We have heard that there has been some more since we downloaded these pictures, so we will endeavour to have more news and photos of these in our next newsletter.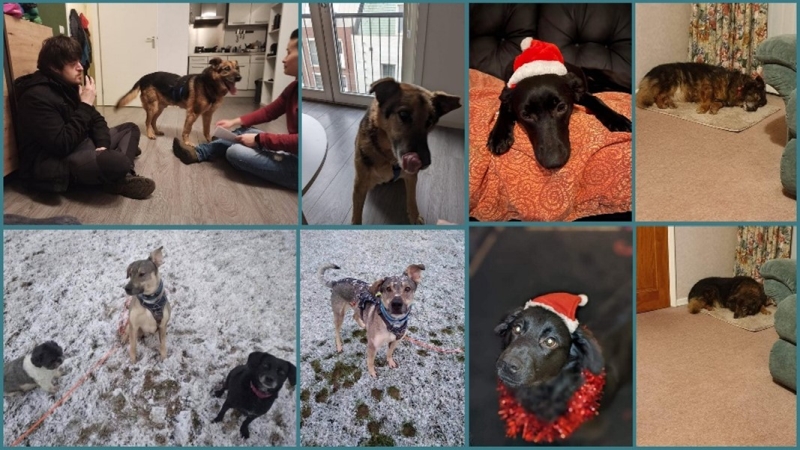 So, talking about adoptions. We have Maya, whose first adoption, unfortunately did not work out, but is now being fostered by Tina Atlagic (who looked after Cherry) and is looking for her new home. Rafo has gone to the Dog Rescue Centre in Manchester, (who helped Bear). Then we have Princess, Dora, Riki, Lola, Bat and Tiko (who we currently sponsor, so would love to find him a home) who are all still in Bosnia. There is also Juno's mum Simba and her remaining puppies. Do you know anyone who can give any of our fur friends a new home?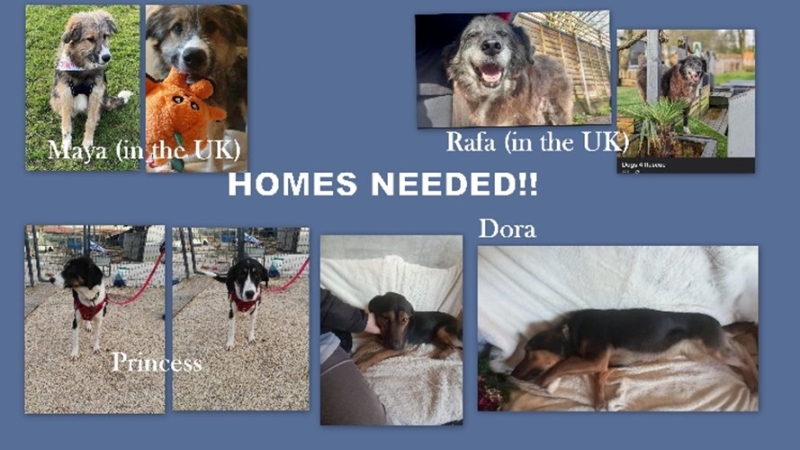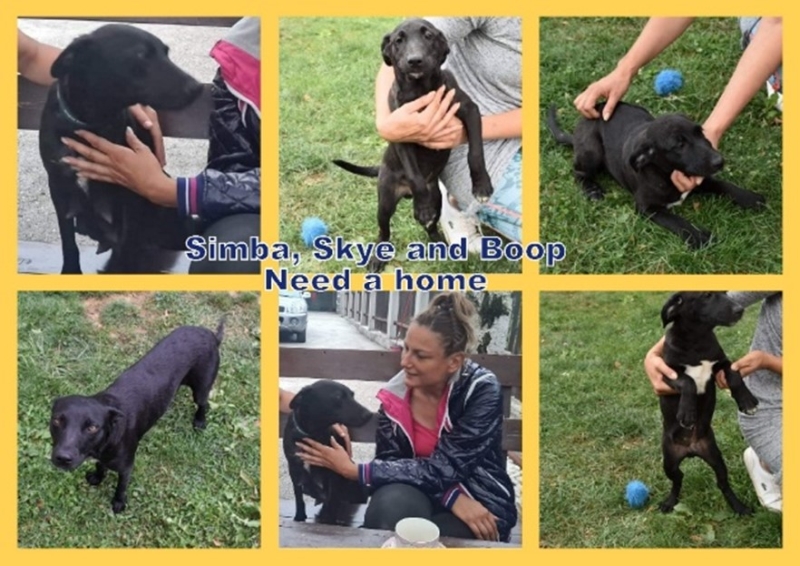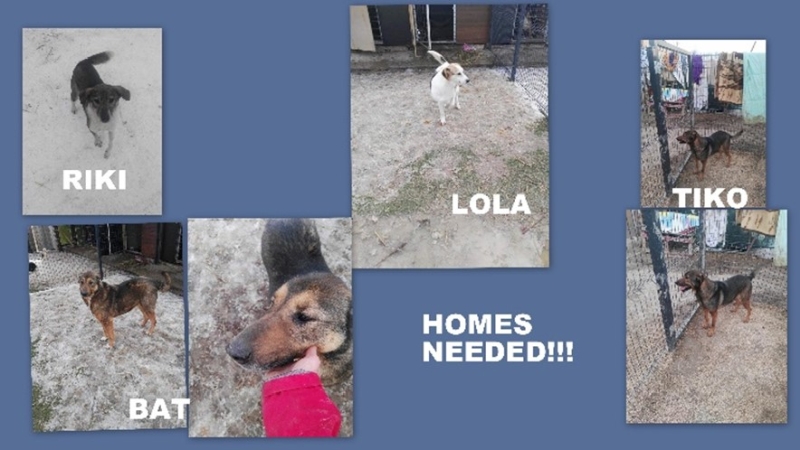 We feel now is the perfect time to give you an update on what has been happening in our Motherland.
In the photos, you will see two of Hope's latest rescues Henry and Stella. Stella, we have learned, has already found a new home and Henry. Henry was found trapped in a fence and has had to undergo extensive treatment to get his legs straightened. Therefore, any donation towards Hope's growing vet bills would be greatly appreciated as this is the time of year where there are more medical needs than normal especially due to the rabies vaccinations for all those that are still in the shelter.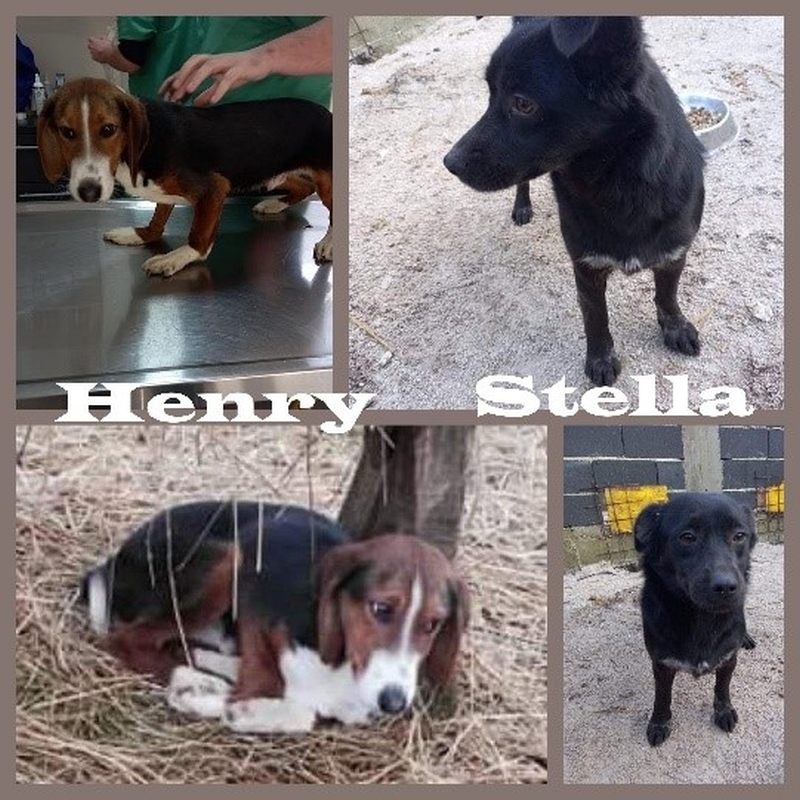 We also like to take this opportunity to say a big THANK YOU EVERYONE for all your donations and help since the flood in November. As you can see from the pictures, we have had so many items donated from food bowls and supplements to blankets and towels, Webaction helped us with replacing some of the food. Thank you to those who clicked to help us and please keep on clicking to help others who need it. We would like to make a special mention to Indy Faris for her donations and extra beds and Masie who raised money by selling cupcakes. As you can see, from the photos, the Hope team also took the opportunity to amend the layout of the outside runs whilst fixing the shelters and bolstering defenses and placed fencing so that they have more runs available. This means that more dogs get the opportunity to have exercise and socialise at the same time. Your help is still needed though to help them get through the winter. The Hope team would also like to stockpile the food supply, as they do not know how the sanctions due to the Ukraine -Russia conflict will affect them and they are worried that there may be a backlash which may affect them and surrounding countries.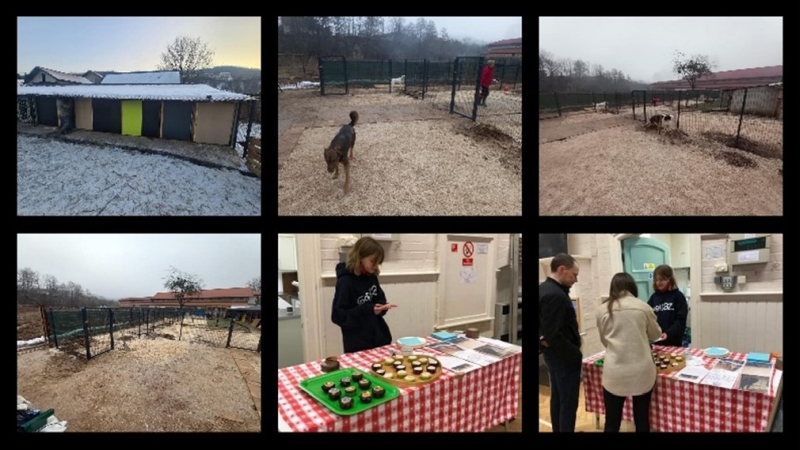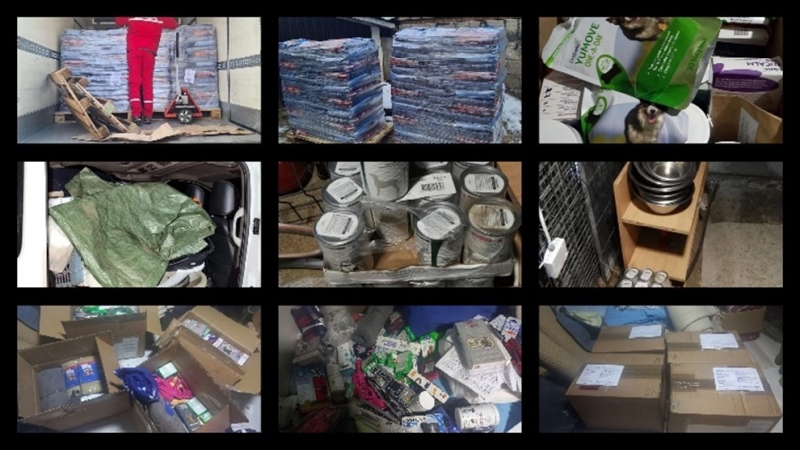 Fireside Chat with …. Alis
How long have you been in UK now?
I arrived in the UK on 30/11/2019
How have you settled in?
I have settled in well but it has taken time to adjust to a different kind of like, different smells and lots of yummy food.
Who do you live with? Any fur brothers/sisters?
I have lots of new brothers and sisters. There was this short dog, older girl who laid with me all the time, Comfort was her name and she comforted me. She was so funny; she is no longer around and I miss her so. I hear the call one of the boys Beauty. He loves to play and when I go on a walk, I feel brave as I have him by my side. Benji is hyper and Hope always liked to play but she has gone too. Then a very young girl arrived call Angel and she has brightened us all up ad she is playing all the time.
What is your favourite thing about the UK?
I love my mummy and daddy. Mummy always gives the best cuddles and daddy lets me jump all over him. Mummy is so understanding when I get nervous by certain things and does everything possible to help build my confidence. Even getting up when its still so dark out no street lights on, so I get nice long walks as I become nervous early evening and won't go out. And mummy and daddy are the best as sometimes I will go out into the garden with ease and other times either one will carry me so I can go and wee and I am not a small girl. They always tell me I'm such a good girl and praise everything I do.
Have you changed since being in the UK?
I like to think so.
How is your English coming along? Any confusing words?
I understand so much it's so cool. Sometimes there are some confusing words, but I just pretend I know and act so silly.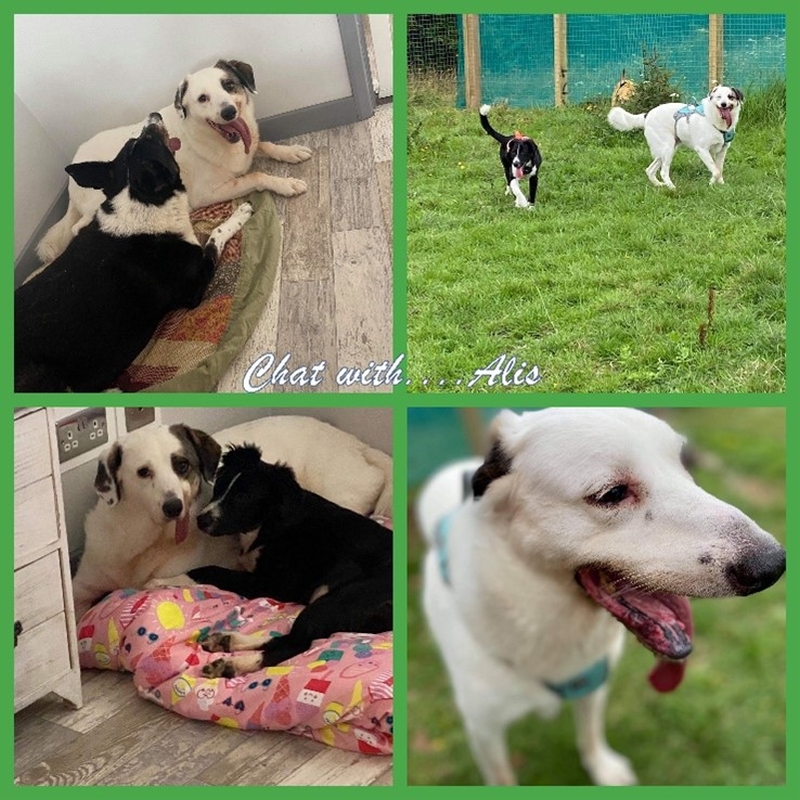 Fireside Chat with …. Alis (continued)
Have you been on holiday or do you have any holiday plans?
We live near the seaside so it always feels fun and we go to these cool dog parks where we can play in sand pits and big tyres and run will my brothers and sisters (and mummy and daddy too).
What is your favourite treat?
All foods, I love them all and anything that's a little hard to break myself (as I have no teeth) mummy breaks up into tiny pieces.
What is your favourite toy?
I love socks and chew toys.
What is the naughtiest thing you have done?
I love trying to eat the bird's bread
Are there any dog friendly places you can recommend?
Lots of places
Any tips for your friends who will be coming to the UK?
TRUST your new family and all will be well if they are like my mum and dad, then you will have a wonderful life!
It sounds like Alis has found the perfect family for her! We do like to have these chats, so if you would like to take part, please contact any of the admins, of just post a message in the Hope Adopter group messenger chat, (we always find a way to get on to that). Here are some photos of other friends who seem to have found their perfect families. Some are from Christmas (we know, that was nearly 3 months ago and we do apologise that it has taken so long to get them posted).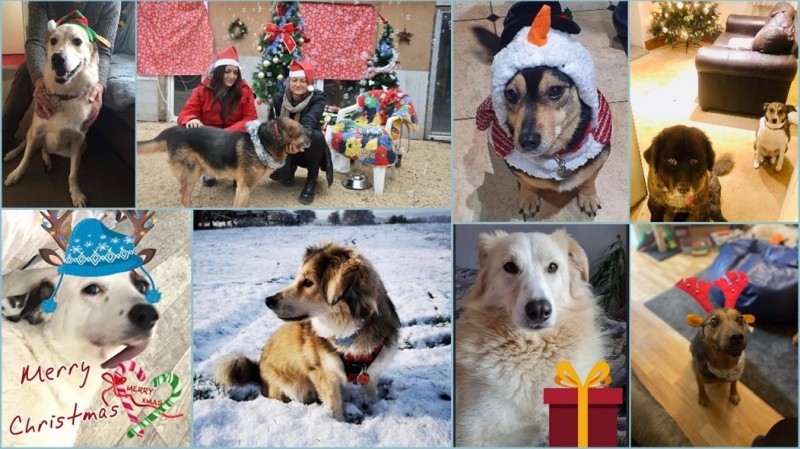 We start off with Zak, Maya and Sanela (we are not sure which friend they have with them), Luna, Aiofe & Mia, Alis,Vucka, Alaska and Cherry.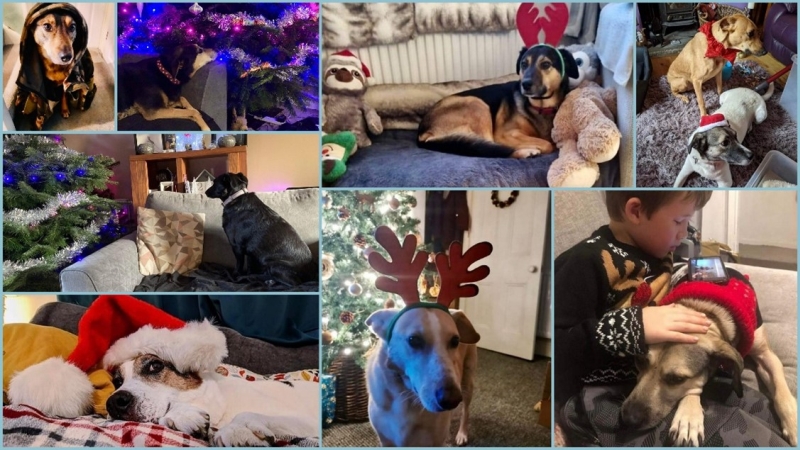 We also have Luka, Cali, Gai, Donnie & Megan, Suki, Jack, Bella and Zuta.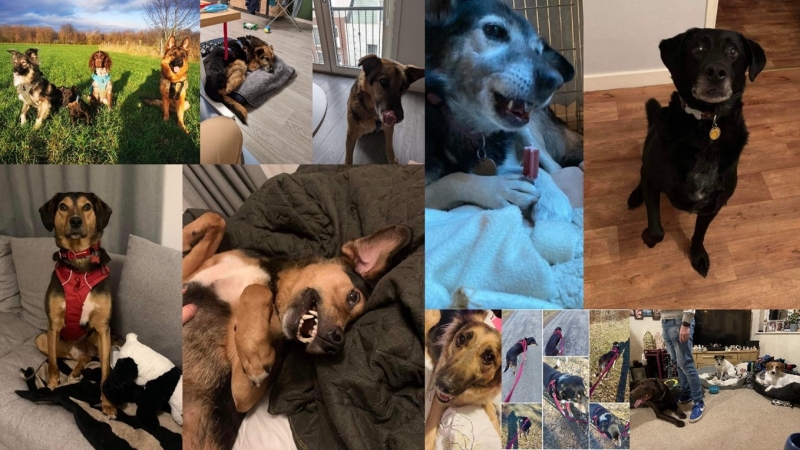 Finally we have Maizie and her new friends, Timmy, Lilli, Caesar, Mishka, Bobica, and then Kai with his brother Iroke and new arrival Max (these are our fur nephews)
Apologies once again if we have missed anyone, or got any names wrong, please be assured it was not intentional. If you would like to feature in the catch-ups, have a chat with us, or help in anyway (this can be sharing our newsletter, our posts on social media and partake in our monthly auctions), please just contact any one of our admins.
We hope you have enoyed this installment from us, until next time, please take care and stay safe!
Love Maz, Seth & Juno
General - How To Help.
You can help our 'Fur' brothers and Friends by doing the following:
Sponsoring – There are over 54 dogs still in the shelter. It can cost up to €15 for food and shelter – but whatever you can afford will do – everything helps.
Direct PayPal is:
info@hopevmselainesdogs.com (This is our UK Business PayPal account so you can donate in £ or € or $USD)
OR:
Website : https://www.hopevmselainesdogs.com/general-donation.html
Sponsor a dog : https://www.hopevmselainesdogs.com/sponsor-a-dog.html
Adopt a dog : https://www.hopevmselainesdogs.com/adopt-a-dog.html
Please like, share and invite people to like Hope VMS adoption and auction Facebook pages. By doing this you are increasing the number of views and that can only be a positive thing as there might be someone out there looking for their ideal furry companion. Also it may help sell the auction items and raise the necessary funds that are always so desperately needed.
Also don't forget to like and share our newsletter and details of the Hope VMS website. We would like to hear how you are settling in to your new homes. Or if you have any interesting stories/adventure with pictures then please email us at editorhopenewsletter@outlook.com and when our human parents are at work we will have a look and get as many as we can in next month's newsletter!
Our website:
https://www.hopevmselainesdogs.com/
Please visit our Facebook pages.
Main page
https://www.facebook.com/HopeVMSDogs/
Adoptions group page
https://www.facebook.com/groups/HopeVMS/
Auction group page
https://www.facebook.com/groups/454360381428547/
To receive our monthly Newsletter by email, please complete your details below.