Newsletter October 2018 - Issue 04
21 October 2018 | Admin
Hello Fur friends,
Seth here....(Don't tell anyone, I got on this laptop thing whilst everyone is sleeping, including Maz who has taken over the spare double bed!)
We are sorry that we missed last month's newsletter. Mum has been busy with something called "exams" and dad "work" and I also had a bad tummy and had to see the nice lady at the vets (I am feeling a lot better now). It was not all work and no play though as we continued playing tourist and went down to Cornwall to a place called "The Lizard" for walkies and visited a place called 'the pub' for lunch and beer or two which made dad happy!
Here is a picture of all 3 of us posing on the cliff tops and my view point during a rest.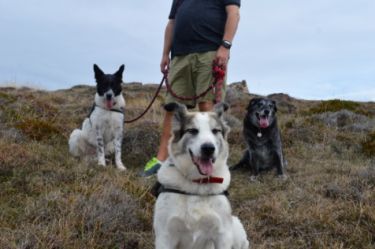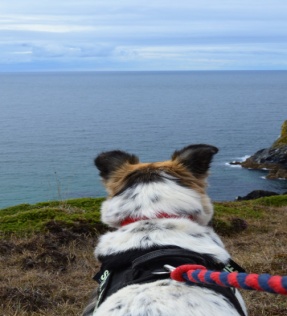 I have also been introduced to a place called Dartmoor! There are lots of sheep which I really wanted to chase, but mum and dad won't let me! Again, we ended off in the pub!
So, dear friends what's been happening....
News from the homeland
We still need your help for our fur friend 'Bruno' who has a cataract and glaucoma. As you know the vets in Bosnia are unable to operate, so he will eventually go blind. A very generous supporter has offered to pay for transport to our foster carers in the UK, who have kindly agreed to help. It will cost around £3000 for the operation which we are hoping to raise from the kind and generous help of our supporters.
https://www.hopevmselainesdogs.com/help-save-brunos-eyesight.html
But as you can see, he is not stopping his dwindling eyesight stop him from being playful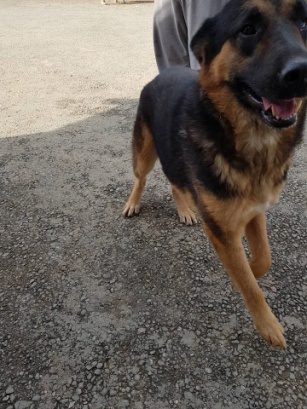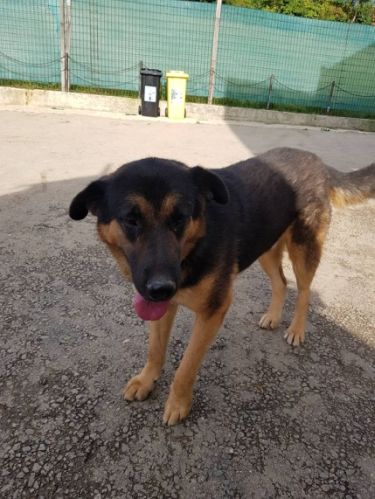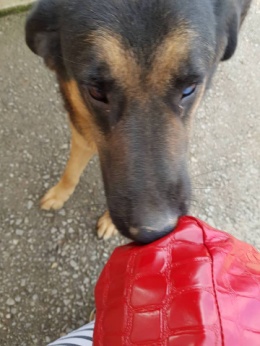 We also have Tino and Donnie (who is the only survivor of a family of 6) who have been unwell and also need your help....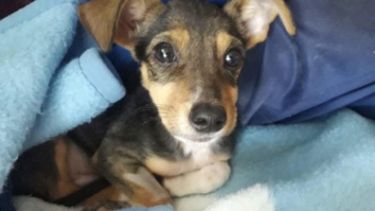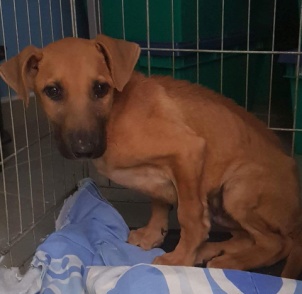 Adoptions
Claire and Max have been adopted they are Hope's 115th and 116th adoption and they are both settling down well and they are already learning the tricks on how to get more treats, hugs and kisses from their human parents.....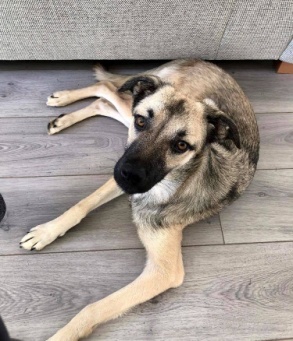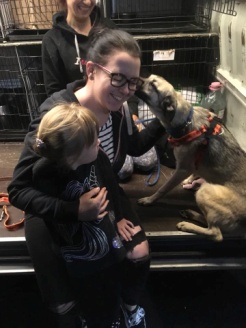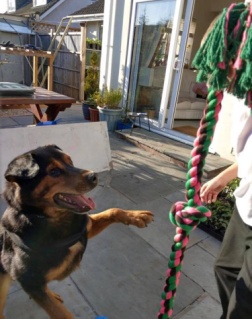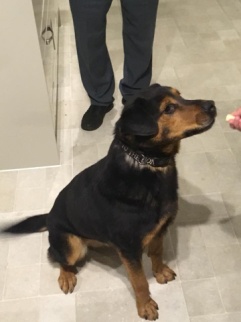 This is Dea, she is in foster care here in the UK and still looking for that "furever" home...please get that bark vine working to see if we can help her find it.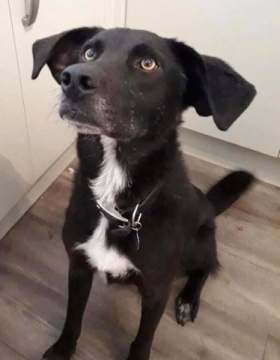 We also have another 126 fur brothers and sisters in the homeland waiting for their chance to find a safe haven like us.
Here is where your human friends / parents can find more information about them.
https://www.hopevmselainesdogs.com/adopt-a-dog.html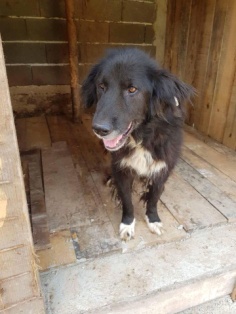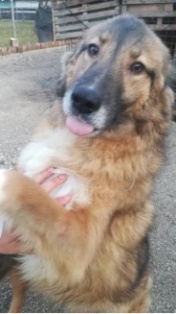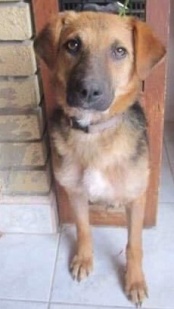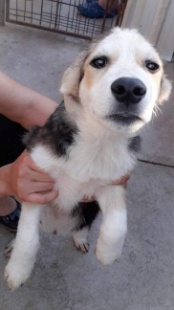 As we love to find out more about you we have 2 new exciting features:
"A conversation with...."where we ask questions about your new life – Luna is our first dog
Conversation with....Luna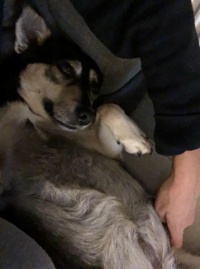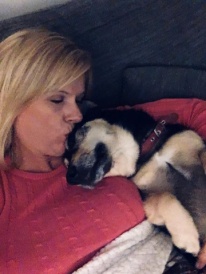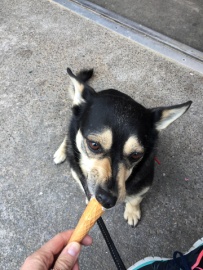 How long have you been in the UK now? 6 months
Have you settled in? Yes
Who do you live with, any fur brothers or sisters? No I am an only dog but I love it as I get all the strokes I could possibly want...as being stroked is my favourite thing EVER...by hand, foot, shoe, objects...anything really!
What is your favourite thing about the UK? Living in my very own home with my own bed and garden with people that love me and not wanting to hurt me.
Have you changed since being in the UK? Oh yes, I'd say I have, I'm much braver now, noises still scare me but my mum cuddles me and reassures me that I'm ok so I just get on with it.
How is your English coming along? Well... mum says I'm a smart girl and have picked things up sooo quickly, she only tells me how to do things a few times and I get it! I know if I give my right paw I get a treat! When mum says "wait", I stop immediately. Everything else...I smile, fall on my back and people seem to love me...life is good!
Any confusing words? Everything apart from paw and wait!
How does it if feel to be bilingual? I can't really remember my other language, mum tried to speak it to me (think she used Google translate)... I preferred her English...I understood that better.
Have you been on holiday or do you have any holiday plans? Yes... I have been on a little boat and a big boat. The big one I just slept and chilled...the small one was a bit scary but I sat on mum's lap. I have been to France and stayed in a massive house. I loved it so much, I could sit outside the front and watch for squirrels then make chase. I had the time of my life! We walked everyday to different places, ate dinner in so many places, sometimes in a posh place where I could just chill on the floor then roll on my back for attention! France was good ... everyone loved me there.
I have been camping...didn't really like that...take me back to the big house and squirrels!! I've lost count how many other times I've been away as my mum takes me everywhere!
What is your favourite treat? My mum's dinner!!
What is your favourite toy? I like the plastic pots in the garden and my mum's hair band
What hobbies do you have? Walking and being cuddled
What is the naughtiest thing you have done? Take my mum's sunglasses out in the garden and accidentally scratched them with my teeth
Are there any dog friendly places you can recommend? Um...France! Everywhere accepted me...shops, restaurants, service station... a very dog friendly country
Any tips for your friends who will be coming to the UK? Enjoy everything, love your family as they love you and chill...if you are feeling stressed...roll on your back and accept the strokes!
"Doggie Adventures" where you tell us about anything exciting – Ben is the first about his bus journeys
Doggie Adventures with...Ben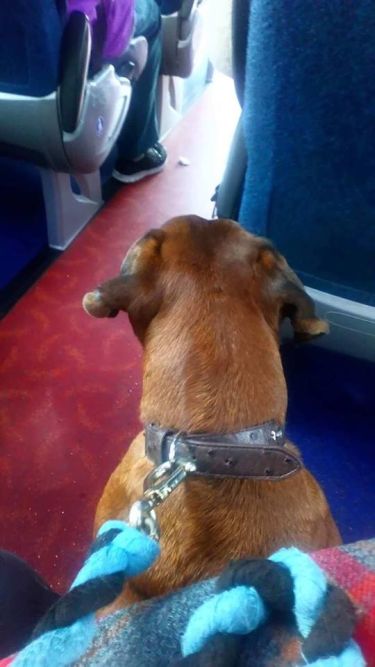 Hi, my name is Ben and I am the fur nephew of Maz and Seth. You may remember me from the last newsletter (there was a photo of me and my fur brothers Sonney and Iroke) as they came on holiday to see me in Elgin, Scotland. Though Seth didn't like us because...apparently Iroke and I are too "bouncy"!!
Well I just wanted to tell you about my adventures that I go on every month. When my human dad is at work, my mum and I have a routine where we get my water bottle and a pack of sausage rolls (we have to get a pack of 3 so that Sonney and Iroke do not feel left out!), then my mum and I go on this big thing called a bus (which apparently where we live, are not real buses but coaches) to go and visit other dogs that look like me. They are my boxer friends Boo Mac the nicker (we call him that as he "nicks" (steals) everything) and Thor. We meet once a month at Grant Park in Forres which is the next town from where I live. We all run around the woods, play catch, I like to play ' tug of war' with my lead and I run away from the pesky squirrels. Then we have a sit down and a rest that's when I have my water and sausage roll before we all play a little bit more. Then we catch the bus home.

The bus driver on the way home knows me now and gives me gravy bones. He also lets me sit on the seat behind him, so that I can inspect everyone coming on and off the bus (only nice people who give me a stroke allowed!)
My fur brothers don't get jealous of me going without them, because they get the spare sausage rolls and something called "peace and quiet" for 3 hours, which they like as they are getting old now!
My bus rides are always an adventure as I get to meet old and new friends every time we travel and next time, I am going to meet 2 new puppies – I am so excited!!!
Did You Know?
As well as the Facebook auctions Hope also a charity shop which can be found on their website to help raise funds.
They also have an Amazon wish list for those little luxuries for those not luck enough to have their own home.
More details on their website!!
If you have any other ideas for fund raising then please let us know! For as you know Hope doesn't get any help from the Bosnian government so every penny raised is important!
Well fur friends, that is all the news for this month, I hope you enjoyed our two new features. If you have any interesting stories and pictures then please email us at editorhopenewsletter@outlook.com and when our human parents are at work Maz and I will have a look and get as many as we can in next month's newsletter!
Love and hugs
Seth. X
Now I am off to look for some of those squirrels that Luna and Ben talk about.........
To receive our monthly Newsletter by email, please complete your details below.