Newsletter March 2019 - Issue 06
6 April 2019 | Admin
Hello Fur Friends,
Maz and Seth here...we hope you all had a great Christmas and New Year. We certainly did and we really enjoyed having goose and all the trimmings for our Christmas dinner.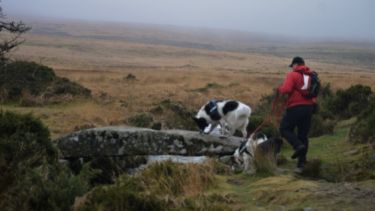 We don't have much to tell you since the last newsletter, as the weather in the UK, has been cold and wet, so we've not had many adventures over the festive period, though we did go exploring Haldon Forest and Scorhill circle (Dartmoor) when the weather was dry. We just love exploring new places. We got to have our treats but no pubs for mum and dad!
News from the homeland
Bruno is in the UK!!! He is being fostered and loved by Melissa Black and her wonderful family – though he still needs your help. Unfortunately his left eye cannot be saved. Bruno has also been undergoing treatment for a transmissible venereal tumour, so the vet bills are mounting up.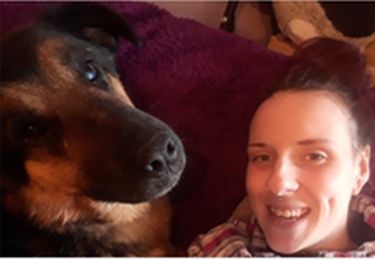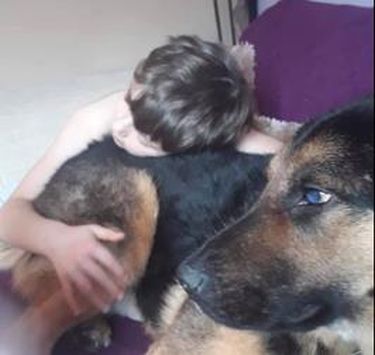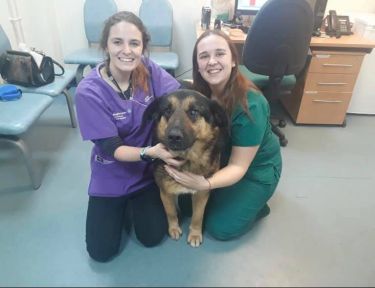 If you can help please his crowd funding page https://www.justgiving.com/crowdfunding/bruno-hopevms or donate directly on Hope's website: https://www.hopevmselainesdogs.com/help-save-brunos-eyesight.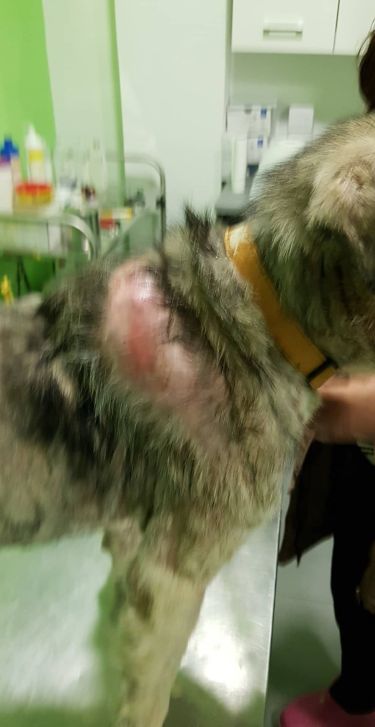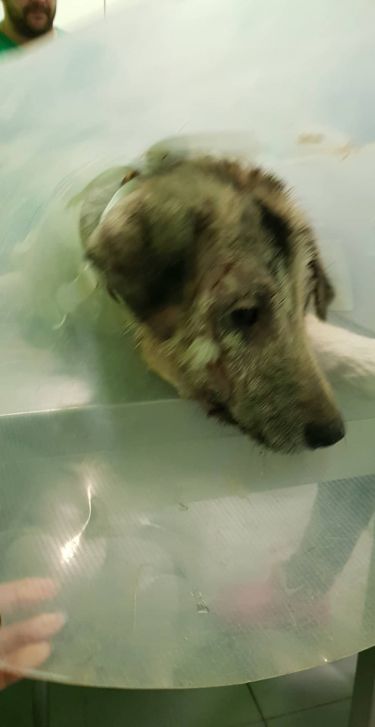 Mason also needs your help – Maya has told us that "his skin gets better and worse. Now it's particularly bad, so we have him at a pension where he's got complete peace and no stress. We are hoping this will help heal him. There is a board where they could leave him a month to see how the recovery is going ... This board will cost €4 per day, but it's great for Mason. Any donation toward his care there is gratefully received."
You can help by pledging any amount, and his plight is detailed on this month's auction page.
https://www.hopevmselainesdogs.com/help-us-treat-masons-skin-problems.html
Fostering and Adoptions
There has been some exciting news over the past couple of months on the adoption and fostering front.
First bit of exciting news - we have a new "fur cousin"!! Lara has been adopted by our owner's sister. Lara has a new fur sister Tilly. Thank you to Dee and Fred Perry for adopting Lara. Mum says she cannot wait to meet her.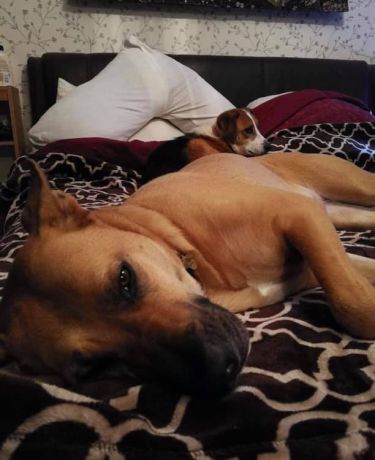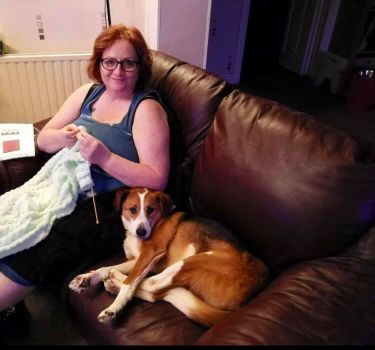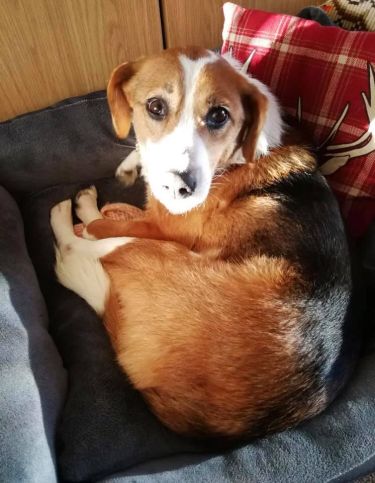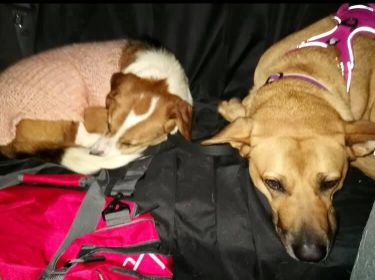 Mishka (below far right) is living the good life with her foster mum Suzanne and best friend, Gypsy. Mishka is a different dog today from when she first arrived with Suzanne. She is learning to love, trust and to enjoy affection (and starting to ask for affection too).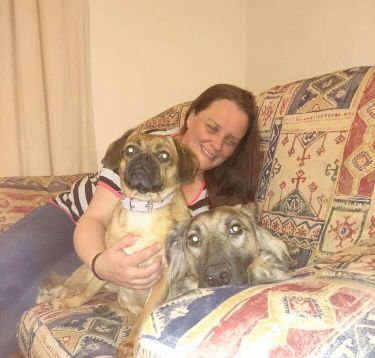 Mella (1st photo below) and Sammy (2nd photo below) have arrived in the UK – Big thank you to everyone who helped with their transport costs. The good news is that Mella has already been adopted by a lady who lost her older dog last year and missed the company. We are feeling very confident that she is going to be very spoilt. Sammy is being fostered and is looking for his 'Furever Home".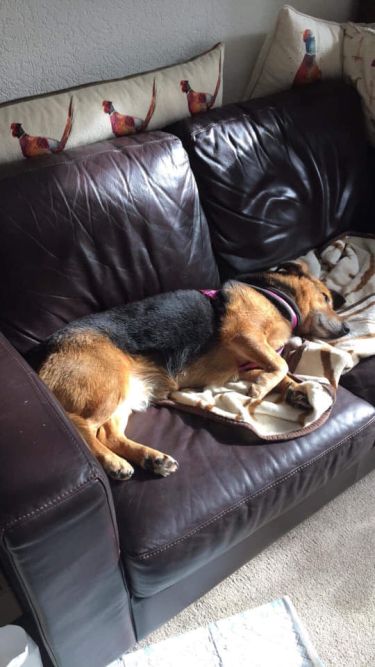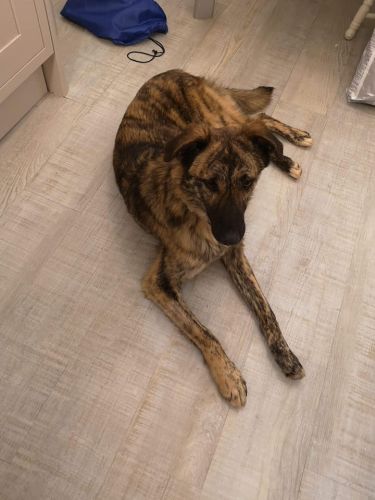 Harper has arrived in Scotland to his new family and new sister – thank you Cheryl Burke for adopting him.
(Photos 1 and 2 below).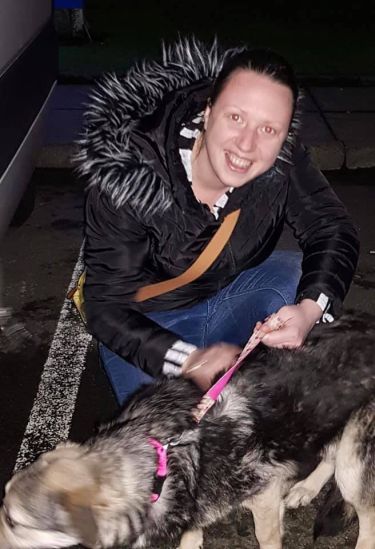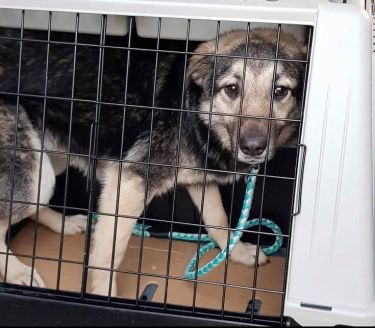 (Photos 1 and 2 below are the super cute Teddy (formerly known as Edy). Unfortunately his adoption was not successful. Here he is with his fosterer Denise Preston). So please help find him a home. Big thank you to Denise for everything that you do to help Hope VMS and Claws and Paws Rescue who has helped by fostering Sammy and Mella.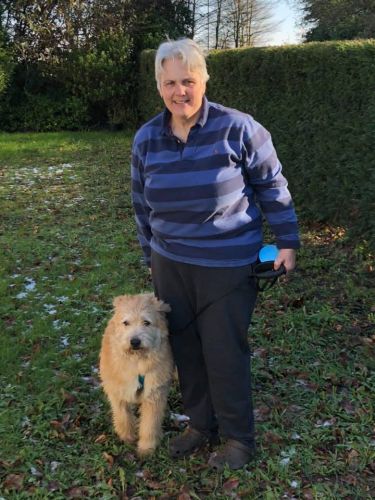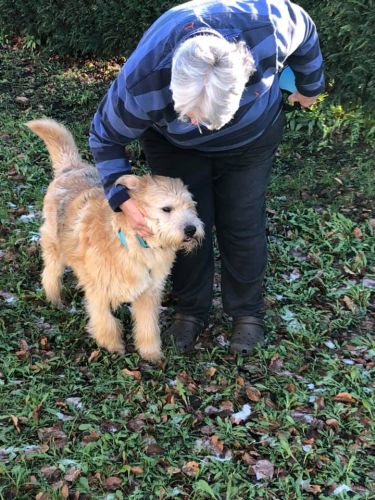 Also we must not forget to say THANK YOU to the following people for all their hard work over the past couple of months.
Thank you so much dear Marlene Eegan, Hanne Riisbjerg and Gadens Hvalpe Group for your donations.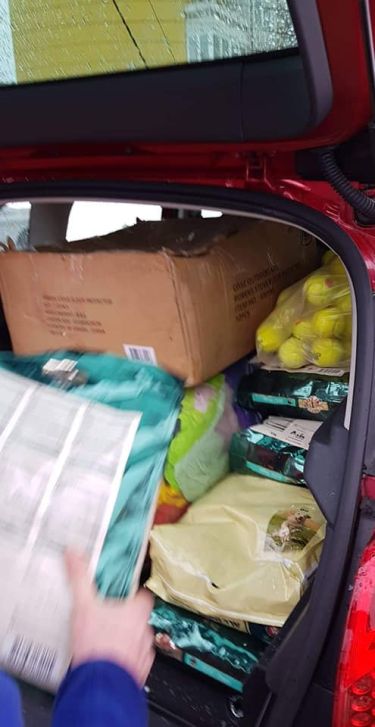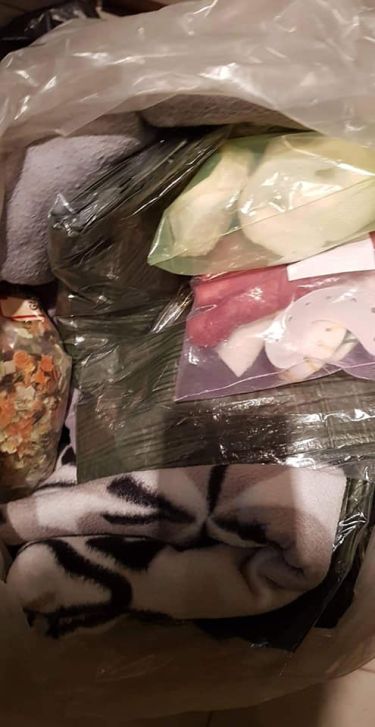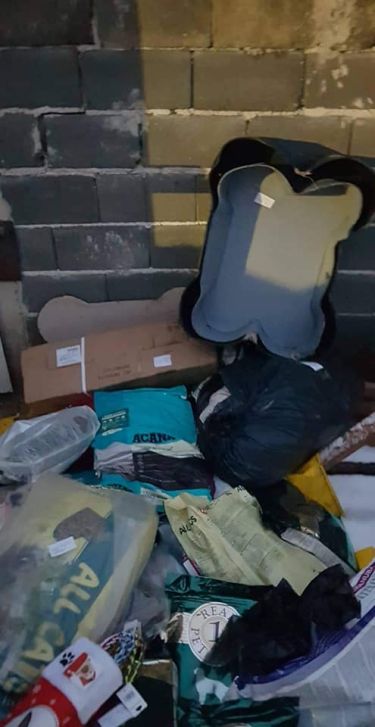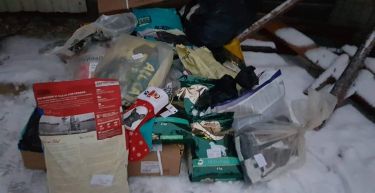 This is absolutely fantastic and very generous and kind of you and to Dingo for all his hard work repairing the shelters.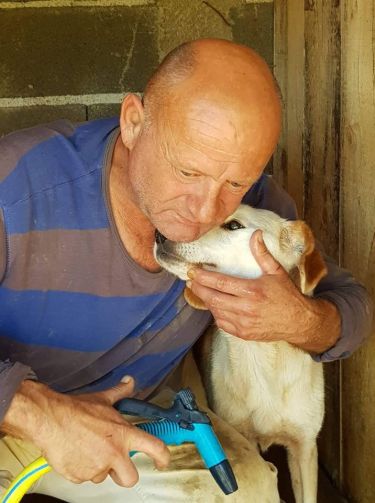 To the families who have adopted our fur friends below and thank you for sending in your photos with updates. – Please keep these coming, we love to hear more details.
Stella on vacation.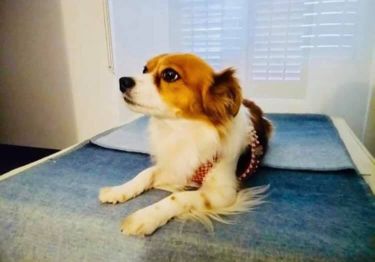 Max enjoying his ball.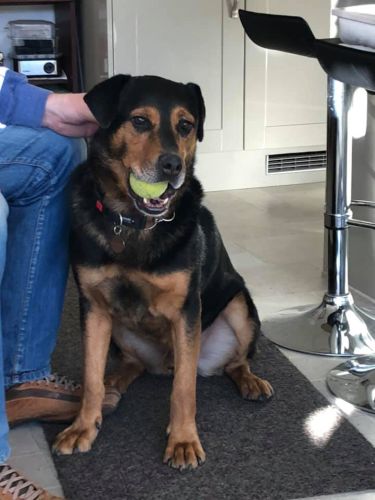 Abbey with her new mum Carol.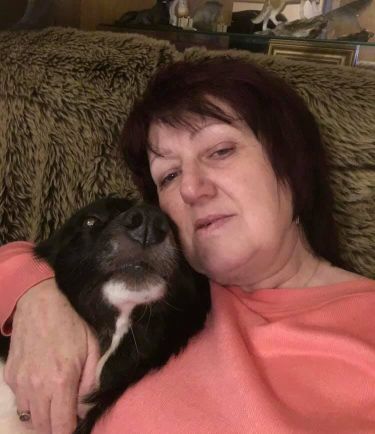 Also a big thank you to all of Hope's Supporters and Claws and Paws Rescuers (again) for the donations for the hay, basket, food and toys. – You have helped the shelter get through a very cold winter.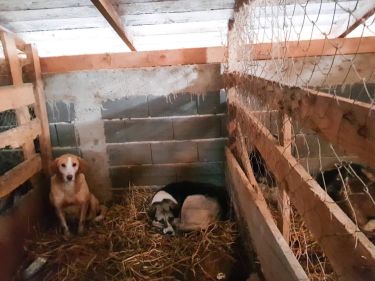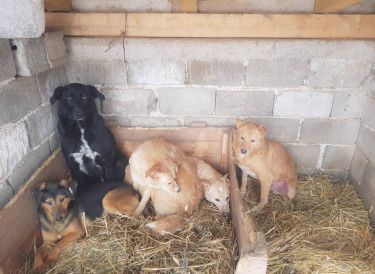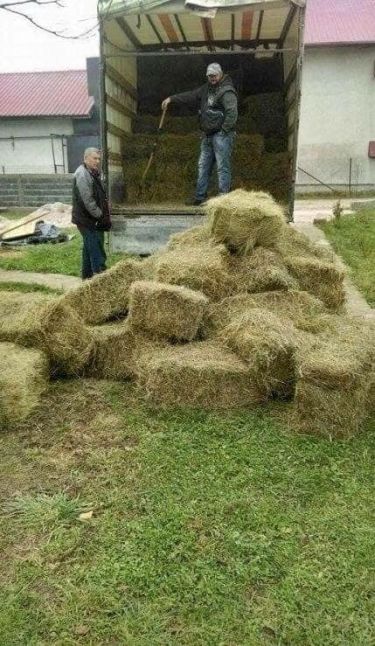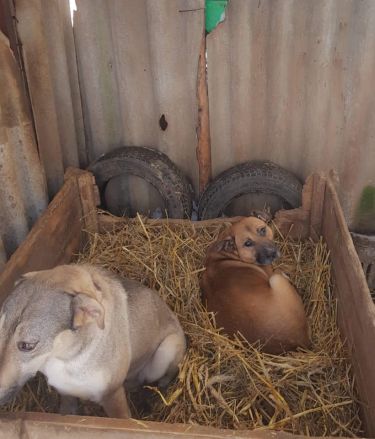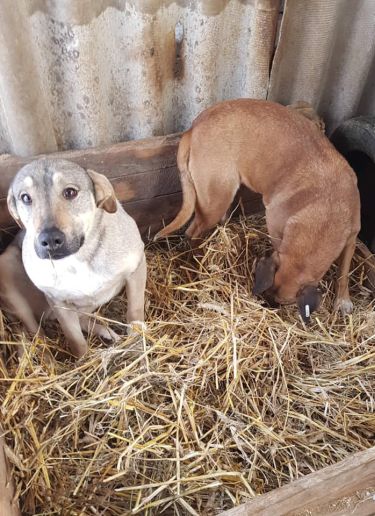 WE STILL NEED MORE BEDS – THERE ARE DROP OFF POINTS AT VARIOUS POINTS INCLUDING WALES AND DEVON (our mum and dad are helping) – JUST EMAIL HOPE'S ADMINS (Cath Day and Tina Dorn-Weaver) FOR MORE DETAILS
Conversation with....Seth and Maz
(As we have not received any recent updates we have interviewed each other)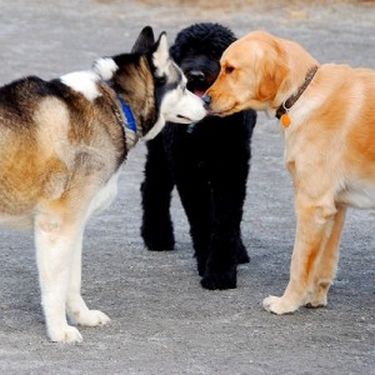 How long have you been in the UK now?
Seth : 11 months
Maz : 3.5 years
Have you settled in?
Seth : Still find some things unsettling, but mainly yes.
Maz : First home was only for six months, but have definitely settled into my second home.

What is your favourite thing about the UK?
Seth : Having multiple beds to sleep on, going for walks, food (especially breakfast, tea and snacks!)
Maz : Same as you Seth, but I also love having daily cuddles and sitting on my dad's lap.
Have you changed since being in the UK?
Seth : Oh yes, I'd say I have started to trust more. I am still not as affectionate as you (Maz) and Jess, but mum and dad are seeing a difference. They say my personality is beginning to come through and it's a cheeky one (because I nag them when they don't feed me quickly enough).
Maz : When I first arrived with my hoomans, I was frightened to go on the field with other dogs and they had to buy me a collar and lead saying that I was a nervous. That has changed now, I love playing with other dogs (but sometimes they can be frightened of my size).
What is your favourite treat?
Seth : I love the large chew bars (mum and dad call them nom and nom bars) I dance when I get them (along with dancing for breakfast and tea). I also love my chew and joint sticks.
Maz : I like any kind of treat, but I also love my vegetables (such as cucumber and cauliflower) too.
What is your favourite toy?
Seth : I don't really go for toys, though I have started to play a little bit. But the Kong is good fun as treats come out of that when I play with it.
Maz : The Kong is my favourite too, but I also like playing with my hooman's socks.
What hobbies do you have?
Seth : Walking and sitting at the top of the garden surveying my domain and barking at anything that walks passed!
Maz : Seth we are so alike, I also like doing those things too along with demanding being stroked and cuddled.
Are there any dog friendly places you can recommend?
Seth & Maz : Dartmoor – a very large area to explore with mum and dad and the rest of the family.
Any tips for your friends who will be coming to the UK?
Seth & Maz : It is hard to let down your guard; it has taken us some time, If you do feel stressed and overwhelmed you will probably have a place that you can go and chill out for a piece of quiet time – your family will understand. However, remember your family loves you and all you need to do is accept the hugs and strokes that are available to you (and the treats!!).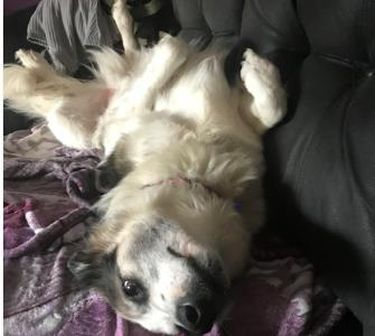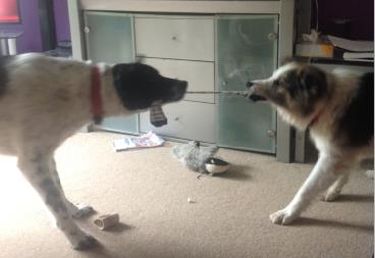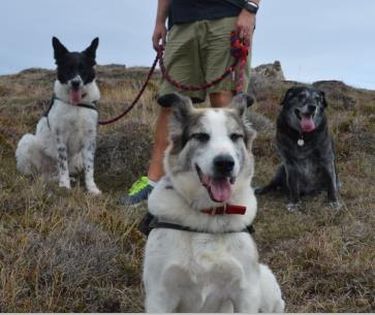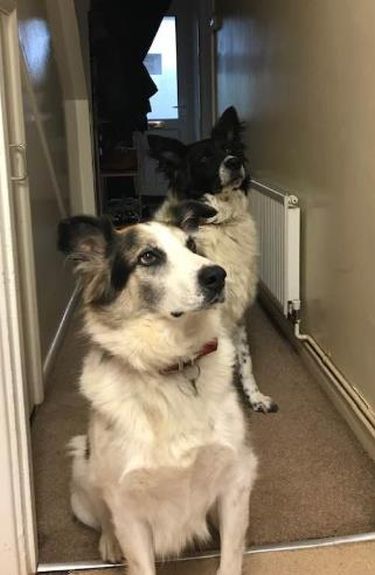 You can help our 'Fur' brothers and Friends by doing the following:
Sponsoring – There are over 117 dogs still in the shelter. It can cost up to €15 for food and shelter – but whatever you can afford will do – everything helps.
Sponsor a dog : https://www.hopevmselainesdogs.com/sponsor-a-dog.html
Adopt a dog : https://www.hopevmselainesdogs.com/adopt-a-dog.html
Please like, share and invite people to like Hope VMS adoption and auction Facebook pages. By doing this you are increasing the number of views and that can only be a positive thing as there might be someone out there looking for their ideal furry companion. Also it may help sell the auction items and raise the necessary funds that are always so desperately needed.
Also don't forget to like and share our newsletter and details of the Hope VMS website. We would like to hear how you are settling in to your new homes. Or if you have any interesting stories / adventure with pictures then please email us at editorhopenewsletter@outlook.com and when our human parents are at work we will have a look and get as many as we can in next month's newsletter!
Love and hugs.
Maz and Seth.
To receive our monthly Newsletter by email, please complete your details below.