Newsletter Spring 2020 - Issue 10
24 May 2020 | Admin
Hello fur friends!
It's Maz & Seth your favourite editing dogs here at Hope VMS Newsletter headquarters (mum and dads' back bedroom). We hope this newsletter finds you all well with this ongoing and global lockdown and that your paws aren't too sore after getting loads of extra walks? It's more difficult to sneak onto the laptop now mum is working from home, however we thought we would write this now our hooman parents have nipped out on an 'essential journey' to the shops to get food, and hopefully snacks for us as well!
We begin this installment with sad news, our fur-cousin Hamza has recently crossed over the rainbow bridge. She suddenly took ill and despite the best efforts of her adopted parents and the vets she sadly passed away. She only had a short time with Denise and Fred who were her adopted hooman's along with Tilly and Lara her new sisters, but as you can see from the photos, her last few months were happy ones and she made a massive impact on all the family and will be greatly missed.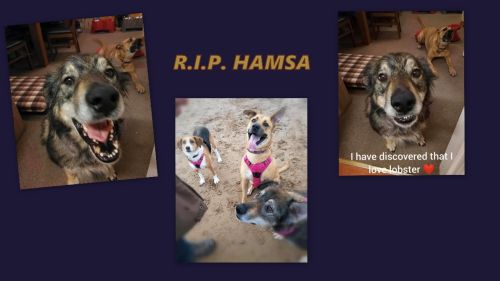 As for us, we are both well, as is our adopted older sister Jessica, she recently turned 15 years old, we were planning on having a party for her, but with this lockdown in place it has had to be postponed. Mum and Dad are planning on having it during the summer, and we will send you pictures when it happens.
Because of this lockdown our exploration of the great counties of Devon and Cornwall has been curtailed for a while, but dad did manage to get us to a really nice beach before this nasty bug arrived from someplace called China, (Seth butting in… Maz has gone for a pee break). We hear nasty things about China, that they eat dogs?! This cannot be right, and if this is true then please support charities that help to stop this) Hang on Squirrel ……
(Sometime later) It's Maz again, Seth is in the garden, sun bathing and barking at the local squirrels and cats, (there's a ginger cat that lives three doors up from us that likes to sit on our dad's shed roof and annoy us!)
Anyway back to the beach, as you can see from the pictures it was a nice day and the beach is a mix of sand and pebbles and lots of rocks to climb on and sniff, dad likes this beach as the coffee shop by the car park is really good, apparently the chocolate cake is really good…..the sad thing is we aren't allowed to try any as dad says that chocolate is bad for us…all three of us think he's just being tight and won't share, but the shop does sell dog friendly snacks and they even have a basket of soft fluffy towels so we can get dried off before we go in to the shop or we can sit on the patio area.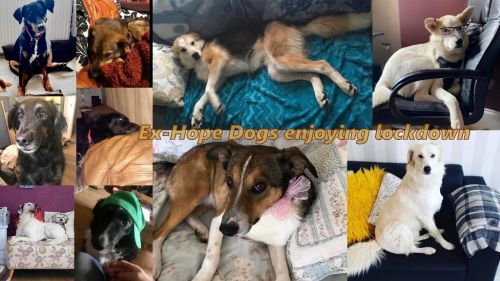 We have loved seeing some of your photos from just before or during the lockdown. Please forgive us if we have missed anyone out, we only get the updates from Facebook and we cannot get on that page very often. We are so sad that no one wants to share their stories directly with us. But if you don't want to miss out and want to feature in our next newsletter with your story / updates on how your new lives are, please send the details to: editorhopenewsletter@outlook.com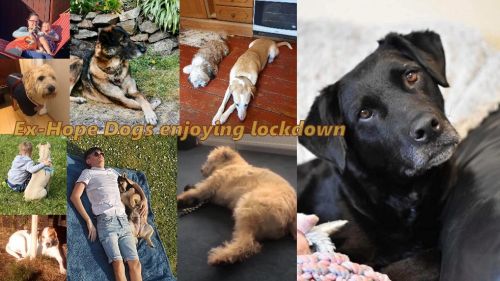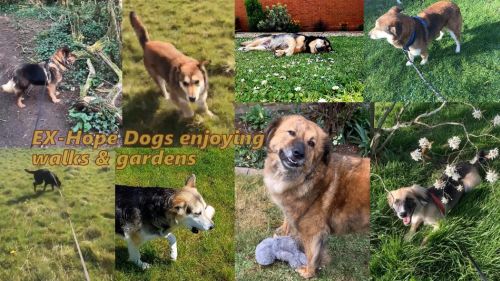 News From The Motherland
With this global pandemic going on, getting food for our friends still in the shelter is proving more difficult than normal. Thank you all for your continuing support and donations, however, they still need help with food and rent. Also because of the restrictions that the Bosnian government has placed on the shelter, they are now restricted on how many dogs they can have (even though they have room, they cannot have more than 80 dogs) however it has not stopped, Maya, Adnan and team still from turning their backs on dogs that desperately need their help. They have rescued the dogs (shown in the photos below) but they have had to go in to pension which costs €70 each until they can find their new homes and desperately need help in finding these funds each month.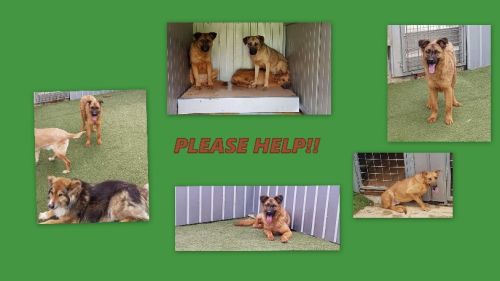 Any little thing helps from donating money, items for our auctions, to liking and sharing our posts (and getting people to sign up to our newsletter!) to spread the news.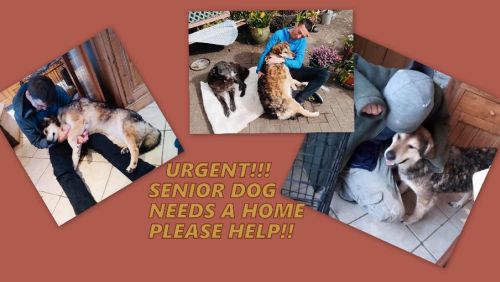 As expected, not many of our fur friends are able to travel at the moment due to restrictions, but here is one dog who needs our help at the moment here in the UK, he has not come from Hope, but has come from Romania. He is currently with one of our fosters Angela Mills, who fostered Eros, Esmeralda and Ella, and helped them to find 'furever' homes but VASILICA is a senior dog who is still looking. He does not like cats and can be picky about other dogs, but he is very loving and affectionate and is living in our new home city of Plymouth! Please help, do you know someone who is looking for a bit of company and would be the ideal new owner?
But as we mentioned earlier, we do have some photos of some recent adoptees Luna, Meda, and Eros. We are so happy that they have found their 'furever' homes. Thank you to everyone involved in helping to find these new families, and a big shout out to their new families for opening up their homes and their hearts.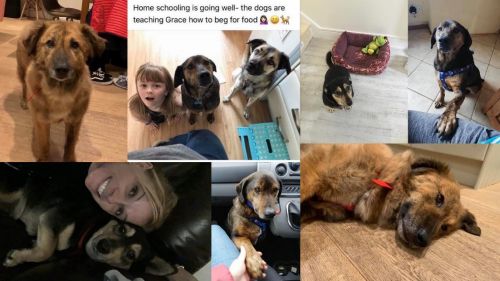 PLEASE HELP US FIND NEW HOMES (AND / OR SPONSORS) FOR THOSE WHO STILL NEED OUR HELP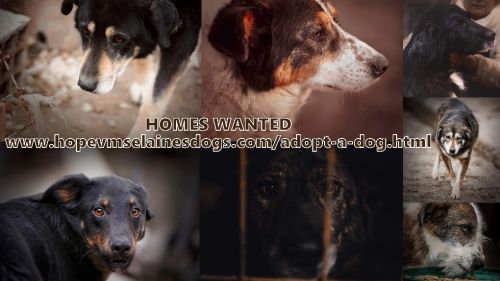 That is all for now, but we will back soon with the Virtual Dog Show special. We believe our Hooman mum has entered us for some of the categories too and the results will probably be out by the time you read this, but we want to bring you all the photos and the results too (we like to keep busy when we are not sleeping, snacking and looking out for squirrels, cats, etc, etc).
Love and hugs.
Maz and Seth (and Jess) x x x
General - How To Help.
You can help our 'Fur' brothers and Friends by doing the following:
Sponsoring – There are over 80 dogs still in the shelter. It can cost up to €15 for food and shelter – but whatever you can afford will do – everything helps.
Direct PayPal is: hopevms0@gmail.com (That's a zero not an "O" - Please note this is our NEW PayPal address).
OR:
Website : https://www.hopevmselainesdogs.com/general-donation.html
Sponsor a dog : https://www.hopevmselainesdogs.com/sponsor-a-dog.html
Adopt a dog : https://www.hopevmselainesdogs.com/adopt-a-dog.html
Please like, share and invite people to like Hope VMS adoption and auction Facebook pages. By doing this you are increasing the number of views and that can only be a positive thing as there might be someone out there looking for their ideal furry companion. Also it may help sell the auction items and raise the necessary funds that are always so desperately needed.
Also don't forget to like and share our newsletter and details of the Hope VMS website. We would like to hear how you are settling in to your new homes. Or if you have any interesting stories / adventure with pictures then please email us at editorhopenewsletter@outlook.com and when our human parents are at work we will have a look and get as many as we can in next month's newsletter!
Our website:
https://www.hopevmselainesdogs.com/
Please visit our Facebook pages.
Main page
https://www.facebook.com/HopeVMSDogs/
Adoptions group page
https://www.facebook.com/groups/HopeVMS/
Auction group page
https://www.facebook.com/groups/454360381428547/
To receive our monthly Newsletter by email, please complete your details below.